Starting with Nicaragua on February 2 (the first Thursday of the upcoming month) and ending with New Zealand and Australia on May 4, Central Lakes College will once again host the Cultural Thursday series. This series started close to 20 years ago as an opportunity for college students and community members to learn more about other countries and/or cultures. Regional speakers often share photos and impressions of their travels overseas or time spent abroad.  We have also had speakers from other countries and cultures share different aspects of their home culture in order to give us privileged insight into their country and culture of origin.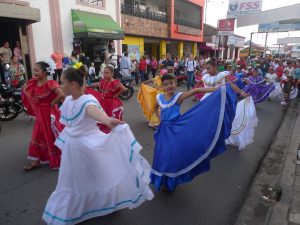 Please join us for the semester's first presentation entitled Nicaragua: The Biggest Little Country in the World on Thursday, February 2 in the Chalberg Theater at noon and in lecture hall E354 at 7 p.m.  Presenter Larry Fisk drove 800 miles through Nicaragua Oct. 28- Nov. 11, 2016 to witness presidential/legislative elections, visit friends and assess social and economic conditions in this Central American nation, which according to Fisk is "one of the world's most vibrant and authentic democracies". The presenter will give an account of the troubled past and of the amazing progress of the last decade in Nicaragua, where the popular government describes itself as "Christian, Socialist and in Solidarity".
In addition to the February presentation on Nicaragua, there will be three other monthly presentations to attend. On March 2, East Gull Lake resident Claudia Allene will share her experience of traveling solo for three years around the world. On April 6, Sampada Lehman will share interesting cultural elements and insights about her native India with our college and community.  And on May 4, CLC Instructor Kari Frisch will share photos and impressions from her time in Australia and New Zealand this past year. Everyone is welcome to join us for these cultural presentations.
For information about these events or inquiries about the Cultural Thursday Series, please contact Tracey Kloeckl-Jiménez (CLC Spanish Instructor) at 218-855-8183.