By: Osirus Washington
MCAC Player of the Week, freshman Bradlee Lewis, and Vermillion Community College came into CLC expecting a victory after the Raiders fell to Fond Du Lac and shot 36 percent from the field. 39 percent from the field got it done Wednesday against their conference rival in a tightly contested matchup. The Raiders held Vermillion to just 23 percent shooting on the night. In a game that displayed a lot of choppiness from both sides, the Raiders were able to get the upper hand.
The first half was very close as both teams had some very sloppy play. CLC came into the second half ready to play, and they pulled ahead. Lamontrell Fuller led all scorers with 22 points on an efficient 9-14 shooting. He was able to bounce back great after shooting a frustrating 13-33 versus Fond Du Lac. He needed help from his teammates to get going.
Fuller, w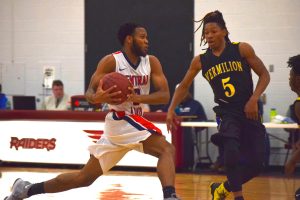 ho went 2-6 in the first half, said he needed teammates to find him more and get him better shots in the second half. Instead of Fuller forcing it he let the offense create itself. He scored 17 points in the second half on 7-8 shooting after getting into the rhythm of the offense. Timothy Boyd added 16 points, 8 rebounds, 4 assists and 2 blocks on 5-7 shooting.
As for Player of the Week Bradlee Lewis, he was shut down. Coach Russell assigned Darrelle Bacon and freshman Osirus Washington to keep him contained. They did a great job by holding him to just 4 points on 0-7 shooting. Both teams had rough shooting nights but CLC bounced back with a good second half led by Fuller and Keonte' Jenkins who also added 19 points.
Vermillion will look forward to their next matchup versus CLC February 4 in Ely. With the Raiders toughest part of the conference schedule coming up, they hope to build a head of steam in the games leading up to the rematch between the two. Check out the game Friday against Mesabi Range, as the Raiders hope to build their win streak.