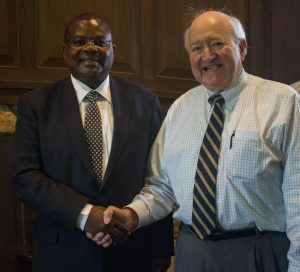 Steve Wenzel, Political Science instructor at Central Lakes College, was a guest at a recent Books for Africa event, where he spoke with Kenya's Ambassador to the United States His Excellency Robinson Njeru Githae.
The event, held May 19 in St. Paul, featured Githae as guest speaker, thanking the U.S. for its donations to Kenya's schools, colleges and communities. He added what a great difference it has made in the education of its citizenry.
Central Lakes College has a rich history with Books for Africa, donating many of its discarded library books to the organization, and taking up collections from the CLC community.
"It was a great honor to meet and visit with Kenya's Ambassador to the United States," Wenzel said. "But more important, to hear Ambassador Githae express his utmost gratitude for what a great difference Books for Africa has made in the quality of life in Kenya and other African nations. It reaffirmed in my own mind how proud I was of Central Lakes College and their participation in this wonderful book donor program. Truly, Books for Africa has truly made a difference in a life of a child and in the future of the nations of Africa."
About Books for Africa:
The mission of Books For Africa is to end the book famine in Africa, through creating a culture of literacy and provide the tools of empowerment to the next generation of parents, teachers, and leaders in Africa. Find out more: www.booksforafrica.org