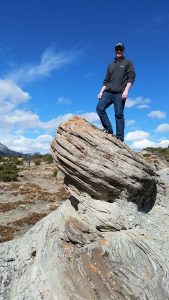 About to complete his AA Degree at Central Lakes College, Nathan Schmidt, 19, was struggling with what to do next.
His choices: Stay at CLC and take more natural science generals, or go directly to a four-year school. Schmidt was not alone in his tough decision. Many students at the college face it every semester.
For advice, Schmidt turned to family friend and CLC Biology instructor Mark Platta. The result: A trip to Montana to explore Schmidt's interests.
Platta knew Schmidt should see his options first-hand, so he brought him to the colleges he was considering: Montana State University and Rocky Mountain College. There, Schmidt talked to instructors and learned about the geology programs and Earth Science departments.
Schmidt also chatted with Wayne Green, a former student of Platta's at CLC and later an adjunct Geology instructor at CLC. Green is currently a forest hydrologist in Lewis and Clark Nation Forest working out of Great Falls, Montana.
So why did Platta use up his Spring break to help out a student?
"I enjoy teaching/mentoring students (and we all are students). Everyone has so much potential but they don't often realize that themselves, and anytime I get the chance to help someone achieve something more I do what I can to help," he said.
Plus, he got to see Schmidt's enthusiasm as he learned more about the schools and field.
Schmidt, who started his education at CLC as a PSEO student, is extremely grateful for Platta's advice and time.
"Mark, because of his history in education, was able to provide very good information based on what he could see at the schools," Schmidt said. "He was able to help me make my final decision on a school, based on what he felt would be the best option for me.  He told me to choose whichever path I wanted to, and to do what I though would be best for me. His advice was able to basically tip the pendulum in the direction of one of the schools based on what he could see. "
Schmidt just finished up his final semester at CLC. Now, he's on to Montana State University to pursue a career as a geologist. It's a career that Platta thinks suits him quite well.