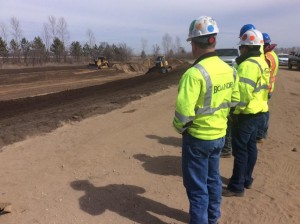 The students of CLC's Heavy Equipment Operations campus in Staples got a first-hand look into the newest technology in their field during Technology Week.
Held during the last week of March 2016, Technology Week is a chance for students to see first-hand the technology of the future in construction. Several industry companies brought about  $4 million worth of equipment to the campus for students to check out. They got a tutorial in the GPS technology and got to sit in the driver's seat and test it out, too.
Technology Week started about five years ago on a much smaller level. It only had one dozer. Today, the event ballooned into millions of dollars worth of equipment and technology, as well as seven industry partners.
"We want our student to be successful in the workplace and we understand that to do that, they have to have the latest and greatest stuff around them," said CLC Heavy Equipment Operations instructor Andy Anderson.
"The ability for students to get hands-on time with equipment is essential for operating," said Brett Mathiowetz, co-owner of Mathiowetz Construction, a partner in the event. "Just getting in, having their hands on the controls, it's a pricelesscv investment in their future as they go look to get employment."
A special thanks to these company partners
Road Machinery & Supplies Company (Chris Potter, Bill Bottema)
Titan Machinery (Mike Werman, Bill Greeley)
CNH (Richie Snyder)
Mathiowetz Construction (Brett Mathiowetz, Rachael Hoemberg)
Carl Bolander & Sons (Norm Everson, Ryan Lehner)
Rachel Contracting (Mark Kramer)
Frattalone Companies (Tony Frattalone, Jerry Pierre)
Check out this Lakeland News story on Technology Week: