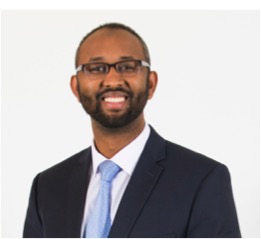 Central Lakes College's next Cultural Thursday event will feature Jaylani Hussein, the executive director of the Council on American Muslim Relations in Minnesota and a Somali-American civil rights leader.
Hussein will present "Understanding the Rise of Islamophobia" at noon on Thursday, April 7 in the Music Rehearsal room E471, Brainerd campus. The event is free and open to the public.
He will speak on the Muslim and immigrant experience in Minnesota in an effort to explain the phenomena of Islamophobia in line with the group's efforts to assuage the recent surge of Islamophobia in the United States. Hussein is an excellent speaker and stresses his belief in peace, cultural understanding, and civil liberties.
Hussein's family emigrated from Somalia to Minnesota in 1993 and he is trilingual (English, Somali, Arabic). Hussein holds degrees in Community Development and City Planning from St. Cloud State University and Political Science from North Dakota State University.
Hussein worked as the community liaison officer at Metro State University and as a planner for the Minnesota Department of Agriculture. He received conflict resolution training from Volunteers of America and worked with juvenile treatment centers. In 2013, he created Zeila Consultants to develop and offer cross-cultural training workshops on East African cultures.
Hussein has presented on the Somali culture to diverse public and private organizations across the US. He specializes in the areas of urban planning, community development, youth development (with over 8 years of experience in working in juvenile treatment centers for court adjudicated youth), legal and civil rights (previously served as outreach director for Council on Islamic Relations or CAIR MN).
Hussein has been active with various community organizations in Minnesota, including the Islamic Cultural Center of Minnesota Board of Directors, Wilder Foundation Advisory Board, Muslim Youth of Minnesota Advisory Board, Islamic Resource Group Speakers Bureau, and ARAHA Board of Directors. He has traveled to the Horn of Africa twice on behalf of ARAHA, to open a regional field office and oversee large-scale humanitarian projects during the Somali Famine of 2011. Hussein received the 2015 the Minnesota Council of Nonprofits (MCN) annual Visionary Leader Award.
A second presentation by Hussein will be at 7 p.m. April 7 in the United Church of Christ (UCC) Fellowship Hall, Brainerd. This event is sponsored by the Brainerd Area Coalition for Peace. This event is free and open to the public. Snacks and beverages will be provided. For more information, please contact Doug Olson, djo819@hotmail.com.
For more information on this or other Cultural Thursday events, contact Tracey Kloeckl-Jiménez 218-855-8183, tkjimenez@clcmn.edu