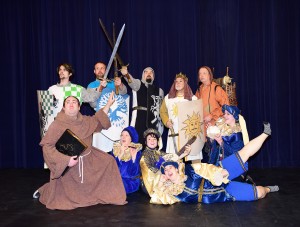 Join King Arthur and his Knights of the Round Table as they journey on their quest for the Holy Grail when Brainerd Community Theatre presents 'Monty Python's Spamalot', opening on April 14 and playing six performances through April 23. All performances are at 7:30 p.m. in the Chalberg Theatre on the Brainerd campus of Central Lakes College.
'Monty Python's Spamalot' is a musical comedy adapted from the 1975 film 'Monty Python and the Holy Grail.' Like the film, it is a wildly irreverent parody of the Arthurian legend. One of the musical's creators, Eric Idle, explained the title this way: "I like the title 'Spamalot' a lot. We tested it with audiences on my recent US tour and they liked it as much as I did, which is gratifying. It comes from a line in the movie which goes: "We eat ham, and jam, and Spam a lot."
The original 2005 Broadway production, directed by the late Mike Nichols, won three Tony Awards, including the Tony Award for Best Musical of the 2004–2005 season and received 14 Tony Award nominations. During its initial run of over 1,500 performances it was seen by more than two million people and grossed over $175 million. The original cast included Tim Curry as Arthur, David Hyde-Pierce as Sir Robin, and Hank Azaria as Sir Lancelot.
The Brainerd Community Theatre production is directed by Patrick Spradlin, and features a cast of twenty-five local actors and an orchestra of thirteen members. "I've lived my entire life as a Monty Python fan," says Spradlin. "Evidently, I am not alone. When I announced this show as part of the season, there was an immediate outpouring of enthusiasm from the local theatre community."
Some of the cast members of the show share Spradlin's enthusiasm. Bri Keran, who plays the Historian and the Head Minstrel, says: "One of the first movies I remember watching as a kid was 'Monty Python and The Holy Grail.' It has always been a family favorite. I am so honored to be a part of this production and incredibly happy I get to share the stage with my older brother Shane. We have had a fun time re-living our youth throughout this rehearsal process!"
Travis Chaput, who plays Sir Galahad, comments: "'Spamalot' is unlike any other show I have done. In most shows a director has to tell you to give more to the character to really exaggerate them for the stage. It's almost impossible to do that with this show! I am so proud to be part of this amazing cast! Everyone is working really hard to make this a production you won't forget. I am very thankful for the opportunity to be a part of this show. Everyone will love it!"
The Lady of the Lake is played by Sadie Wunder, who says: "It is always a fantastic experience putting a show together. Learning each element separately, the songs, scenes, and dance numbers, it's hard to tell what the show will shape up to become. 'Spamalot' has been absolutely hilarious from the beginning. To see these pieces come together has been magical."
King Arthur is played by Michael Sander, who comments: "It's good being king, especially because this is a King Arthur filtered through the Monty Python sensibility, so occasionally I get to do something totally unexpected. Others have the big comic turns–and do them wonderfully–but I feel that I'm the glue that binds all of the craziness together."
The cast is a cross-section of many local communities, notes Spradlin. "We have cast members not only from Brainerd and Baxter, but also from Little Falls, Isle, Garrison, Pequot Lakes, Pine River, Breezy Point, and Aitkin. We have band members who live in Fargo. It's truly a multi-community event."
Cast members include Mike Anderson, Phylipe Belle, Alex Boyles, Eric Boyles, Jesse Brutscher, Laura Burgess, Warren Case, Travis Chaput, Brianna Engels, Rande Erickson, Jon Howard, Charlie Johnson, Bri Keran, Shane Keran, Rachel Martin, Isaac Nadeau, Marc Oliphant, Brecken Pedersen, Shania Robinson, Nicole Rothleutner, Michael Sander, Rhonda Schmidt, Schuyler Volkmuth, and Sadie Wunder.
Joining Spradlin on the creative team are vocal director Sarah Aamot, orchestra director Steve Anderson, set designer Tim Leagjeld, costume designer Dawn Marks, properties mistress Laura Burgess, lighting and sound designer Ben Kent, technical director George Marsolek, and choreographers Paul Mathieu and Stephanie White, who also is the production stage manager.
Notes White: I am so excited for the Brainerd Lakes Area to see this production of 'Spamalot'! The cast is packed full of new and seasoned talent! As Production Stage Manager and Co-Choreographer, I have watched these actors come to life and have helped them develop dancing skills they didn't know they possessed! I am so proud of all of the production team, cast, and orchestra! We are ready to entertain you!"
Lighting/sound designer Ben Kent, who hails from the U.K., has a unique take on the production. "Being a British citizen, it is a legal requirement for all to have watched 'Monty Python and the Holy Grail', and be able to quote it verbatim. We also have to know how to get the phrase "Nobody expects the Spanish Inquisition" into polite conversation. Seriously though, I was brought up on a diet of Monty Python, and their comedy is thoroughly ingrained in British culture. I am therefore delighted to help bring 'Spamalot' to the Brainerd stage with flashing lights, and things that go bang."
Tickets for 'Spamalot' are available from the CLC Box Office at 855-8199, or can also be purchased online at www.clcmn.edu/arts
This production is sponsored by GLAPA, the Greater Lakes Area Performing Arts.