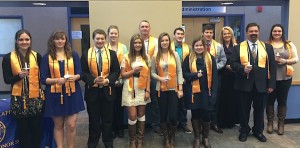 Twenty-two Central Lakes College students were inducted last weekend into Phi Theta Kappa, an international honor society.
"Phi Theta Kappa is a way to honor and congratulate students on their excellent academic achievement. We're proud of this year's members and we're excited to have them as part of CLC's Upsilon Omega chapter," said CLC Phi Theta Kappa advisor Kate Porter.
The students inducted into Phi Theta Kappa include PSEO, traditional and non-traditional students.
Pictured from left: Amanda Belin, Sasha Leibold, Clayton Richardson, Therese Turner (in the back), Julia Gordon, Shawn Thayer (back), Larissa Bilda Coelho, Theodore Erickson (back), Kaisa Bernu, Andrew Walack (back), Brook Witt, Troy Hanson, Stephanie Arndt.
Not pictured: Kristen Poepping, Gary Patton, Dona Trenkenschuh, Michael Bean, Alexander Becker, Ariana Gamradt, Hannah Gatton, Brett Harris, Katrina Herder, Heather Kleve.