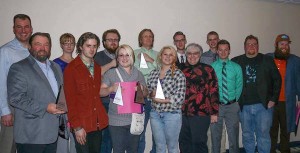 Central Lakes College students were awarded high honors at the American Advertising Awards Feb. 13 in St. Cloud.
The event is an annual competition and celebration for marketers, advertisers, creatives, media specialists, producers, strategists, and students across Central Minnesota.
The college's graphic design and photo students pulled in 11 silver and 10 gold awards.
Students, hometowns and awards:
Kira Moses, Crosby, 2 gold and 1 silver.
Martin Nelson, Willmar, 1 gold and 1 silver.
Mitchell Nelson, Willmar, 1 gold and 1 silver.
Nicholas Bickford, Breezy Point, 1 gold and 1 silver.
Kristina Tooker, Akeley, gold.
Romanah Sibell, Nisswa, gold.
Brandy Ramussen, Staples, silver.
Nicholas Brutscher, Little Falls, silver.
Patrick Hoffmann, Fort Ripley, silver.
Photo students:
Marie Berthiaume, Albany, 1 gold and 1 silver.
Amy Edwards, Brainerd, gold.
PShantell Peterson – gold
Whitney Carlson, Esko, 2 silver.
Heather Kleve, Browerville, silver.