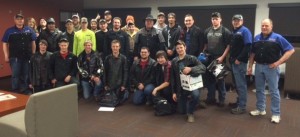 Several Central Lakes College welding students earned top spots at the American Welding Society's "Behind the Mask" welding competition at Ridgewater College Wednesday.
CLC students competed against six other schools, with about 120 participants, in five categories.
A young and energetic welding department consisting of Paul Jillson, Steve Verdon, and David Otto ignited a deep inspiration in the students to compete.
"We're proud of how the class represented CLC in a professional manner and their exceptional performance in the competition," Otto said.
Verdon agreed. "I am very pleased and impressed with all the students. Not only on their welding skills, but also how they handled themselves and represented CLC."
The contest gives area post-secondary students an opportunity to show their welding skills and abilities. Contestants compete in SMAW (stick), GMAW (wire), GTAW (TIG), OFC (oxy fuel cutting) categories. Students were able to choose one category or participate in all four. Each student received a print and welding code to follow to make the weld in the proper place and size. The competition tests an individual's skill in print reading, fabrication, welding, and time limits.
The competition prepares students for job interviews and weld tests they will encounter as they enter the workforce, Jillson said.
CLC student Trevor Brausen said, "It is a good experience to weld/fab with a time limit while competing against others. It was a lot of fun!"
Classmate Tyler Breitweser added, "It was a good experience to weld under pressure and against others."
CLC student awards:
Tig welding: Trevor Brausen, Pierz, 1st place.
Mig welding: Ben Lindbom, Staples, 1st place.
Stick welding: Eric Skajpwski, Royalton, 1st place; Tyler Breitweser, Park Rapids, 2nd place.
Oxy fuel speed cutting: Joey Trego, Shevlin, 1st place, Billy Dreher, Browerville, 2nd place; Ben Lindbom, Staples 3rd place.