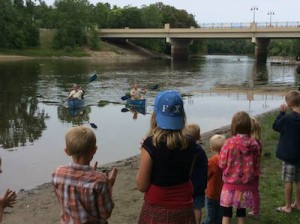 Central Lakes College graduate and veteran Bartholomew Lindberg can check one more thing off his bucket list: Canoe the length of the Mississippi River.
Lindberg recently reached the Gulf of Mexico after a four-month journey with two others.
It's part of the Mississippi River Warrior Hike Program, where veterans "walk off the war" and take in the therapeutic effects of a long journey. There are seven expeditions veterans can choose from, most being hiking adventures. Lindberg's group is the first in the program to canoe the river.
Lindberg and his team, fellow veteran Mark Fox and documentarian Abby Kaeser, started at Lake Itasca State Park July 20.
Why the epic expedition? For Lindberg, it was a way to "renew his faith in mankind." Recently out of the military, he "had to learn how to trust people again."
Lindberg, a Brainerd native who spent four years as a watercraft operator in the Army, took both welding courses at CLC and earned the Certified Production Technician Certificate. He finished his coursework this past summer before starting his trip.
Those countless hours of silence and paddling the river forced Lindberg to look deep inside himself. His mind opened up to how to be an individual and to not be afraid of being alone.
As he pulled up on the last dock of the trip, Lindberg said he was both sad and renewed at the same time. Sad because the trip was over; renewed because he felt refreshed after the long, therapeutic trip.
"It was like I could get back to life and be an effective worker again," he said. "When you're not around the drama, not around the materialistic things, you get a realistic look at life."
Lindberg arrived back in Brainerd Nov. 22, the next day after the trip ended.
Now he's looking for his next opportunity. Likely, that'll be enrolling in CLC again and studying robotics.
Lindberg said he's happy to have paved a path for future veterans who want to make the same journey. He's also thankful for the support he got from the local VFW and American Legion. When the group landed in Brainerd on day 31 of the trip, they received a hero's welcome by about 30 city officials, state representatives, and members of the sheriff's office, police and fire departments and many veteran organizations.
Learn more:
Follow the journey: