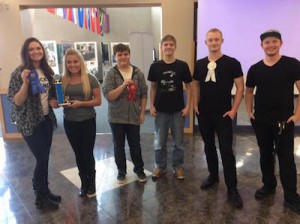 High school students from Brainerd and Bemidji placed in tops spots at the North Central – Media Glitz Competition Thursday at Central Lakes College.
The event is for high school students who are interested in arts and media careers. This year's competition in videography challenged students with a ready script, which they used to work through an obstacle course of camera operations, and then edit a final trailer video. The video was judged by three industry professionals.
Ribbons were given to 1st, 2nd and 3rd place, as well as CLC scholarships of $500 per team ($250 each student) for 1st place and $200 ($100 each student) for 2nd place.
A Media Glitz trophy is also awarded to the winning high school.
The winners:
1st place: Kelsey Cobenais and Kassie Solten of Bemidji.
2nd place: Blake Anderson and Oliver Oldham of Brainerd.
3rd place: Nolan Hamilton and Nate Anderson of Bemidji.
Other contestants included: Josey Wentland and Samantha Becker of Brainerd and Little Falls students Jessi Kretsinger, Peyton Hable, Ethan Meyer, Dillon Lentsch, Randy Doherty and Trevor Johnson.