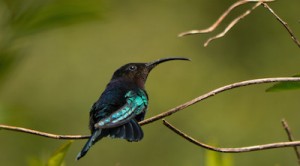 Wildlife photographer and Central Lakes College sociology instructor Gary Payne will present a collection of his favorite hummingbird images from several South American and Caribbean nations from 7-8:30 p.m. Thursday, Dec. 10 at the Northland Arboretum.
Payne gathered these images by visiting 30 nations, including six trips into the Amazon rain forests, as he studied their cultures and environments for his classes. The images on will come from Suriname, Guyana, and the islands of Grenada, Dominica and St. Kitts, as well as some captured locally.
In the 1990s, Payne made two documentaries on Minnesota forest issues that aired on PBS stations. One of the documentaries (Heritage for Sale) was funded by Sierra Club, which named him Minnesota Environmentalist of the Year in 1989. A few samples of his photographs are already on display and for sale at the Arboretum gift store.
Tickets are $5 for Arboretum members, $10 for non-members and free for CLC students with college ID. Payne will have a display of photographs for purchase. Ticket receipts will go to support the Arboretum.