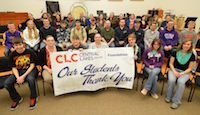 More than $153,000 in scholarships was awarded to Central Lakes College students.
The CLC Foundation recently announced the scholarship recipients for fall semester this month.
"As the cost of a college education continues to increase, CLC Foundation scholarships play and even greater role in the lives of CLC students as they pursue their dreams of a career," said Pam Thomsen, executive director of the CLC Foundation. "We thank our donors for the crucial assistance they provide in scholarships to more and more college students."
Each student application was read, reviewed and rated at least three times. Fifty-one percent of students who submitted an application received a scholarship, with the average scholarship award being $575.
"By receiving this scholarship, I am able to concentrate on what is important to me and that is my education. Thanks to (the) kind and generous financial support I will be one step closer to earning my teaching degree, which has been a passion of mine," said CLC student Leilani Stirewalt, recipient of the E. Terry Skone Scholarship Fund.
CLC student Jennifer Gulseth, Maxwell Douglas Adamek Best Scholarship recipient, added, "By awarding me this scholarship, I am able to concentrate on what is important for me, education. (The) financial generosity has allowed me to be one step closer to my goal and has inspired me to help others by giving back to the community."
Evan Reese, Crow Wing Power and Light Scholarship recipient, said "When I graduate, I hope that I can use what I have learned at CLC to strive further into my education and make a difference in many people's lives."
The Spring 2016 scholarship application will open Sept. 1.
Scholarship recipients:
Leslie Smith Scholarship Fund
Anna Stevens
Aitkin Lions Club Scholarship Fund
Sarah Berg
Kala Cloose
Alicia Kuhlmann
Teri Nelson
Kaitlyn Scharrer
Androli Memorial Scholarship Fund
Brooke Dumpprope
Ashmun Family Faith Based Scholarship
Benjamin Hanson
Kathryn LeBlanc
Atek Products Fund
Alyse Anderson
Miranda Lambert
Brainerd Area Zonta Club Scholarship Fund
Kori Busho
Brainerd Elks Scholarship – Norm Arveson Fund
Tucker Billman
Brainerd Jaycees Scholarship Fund
Joseph Lambrecht
Carissa Meyer
Brainerd Lions Fund
Theodore Erickson
Page Lee
Lucy Nelson
Brainerd Rotary STRIVE Scholarship
Taylor Zacher
Brainerd Service League Scholarship Fund
Lisa Hall
Brainerd Sports Boosters Scholarship Fund
Benjamin Hanson
Taylor Zacher
Brainerd VFW Scholarship Fund
Jerry Enget
Travis Robertson
Shawn Thayer
Breezy Point Women's Club Scholarship Fund
Virginia Hoheisel
Carissa Meyer
Calvin Carlson Memorial Fund
Ashton Kapphahn
Jenny Skoog
Central Minnesota Manufacturing Alliance
Benedict Doe
Charles Burton Memorial Fund
Zachary Anderson
Susie Tibbetts
Charles R. and Jean Widmark Scholarship Fund
Patrick Ruegemer
Clarence and Fran Holden Project Fund
Mason Barnaby
Ashley Bartel
Lydia Bertram
Tucker Billman
Christian Burnett-Petschl
Zachary Houle
Liam Knutson
Anna Lorentz
Tyler Maciej
Ariana Matakis
David Nelson
John Raboin
Taylor Sawyer
Kaitlin Spar
Mathew Stumpf
Jacob Swendsrud
Sydney Swenson
Nashya Vesely
Kevin Winterfeldt
Clarence E. and Ruth L. Cook Family Fund
Spencer Tiboni
CLC Employee Fund
Mason Barnaby
Tucker Billman
Zachary Houle
Elizabeth Johnson
Jackie Lange
Morgan Larson
Darren Thramer
Kelly Tretter
CLC Liberal Arts/Brainerd High School
Jessica Williams
CLC Natural Resources Scholarship Fund
John Brezinka
Hagen Gamradt
CLC Student Scholarship Fund
Benjamin Hartman
CLC Student Senate Scholarship Fund
Julie Prindle
Cornell E. Badger Memorial Scholarship Fund
Heather Smart
Crow Wing County Master Gardeners Fund
Krista Johnson
Brooke Moren
Crow Wing Power and Light Scholarship Fund
Makayla Conrad-Kassa
Joshua Guyse
Tyler Mortenson
Levi Puetz
Michaela Quast
Evan Reese
Michael Talbert
Therese Turner
Dan Duda Memorial Scholarship Fund
Taylor Zacher
Diane Scearcy Scholarship Fund
Jennifer Fundine
Don Adamson Memorial Fund
Mason Barnaby
Don Wig Memorial Scholarship Fund
Delton Schultz
Dorothy H. Tanner Scholarship Fund
Samantha Hines
Dr. Duane Lund Scholarship Fund
Krista Kowalski
Dr. Stanley A. and Rose M. Edin Family Scholarship Fund
Benedict Doe
Terry Skone Scholarship Fund
Christine Elliott
Travis Schneider
Leilani Stirewalt
Karen Vander Sluis
Erma Feriancek Fund
Tamara Clark
Dylan Johnson
Tina Laxen
Patrick Maloney
Evelyn voss
Jessica Williams
Richard and Orbie Miller Sally Ihne Family Scholarship
Michaela Hodge
Fifty Lakes Foundation Scholarship Fund
Aaron Larson
Owen Schepring
Francis and Helen McCaffrey Scholarship Fund
Morgan Muiller
Lucy Nelson
Maria Seep
Kelli Turcotte
Fuhrman Photo Fund
Marie Berthiaume
Matthew Breiter
Whitney Carlson
Future Engineer Fund
Thomas Chartier
Gary Volner Scholarship Fund
Joel Ransom
Gayle Rognaldson Memorial Scholarship Fund
Lynnette Golden
Joshua Guyse
Jamie Osborn
Tarna Squires
Ruth Virnig
Glen Gustafson Scholarship Fund
Zachary Houle
Good Neighbor Home Health Care
Judith Holmquist
Rachel Lee
Harry and Louise M. Nysather Family Scholarship Fund
Darren Thramer
Henry F. McCollough Scholarship Fund
Hannah Maloney
Hugh C Becker Foundation/Brainerd Chapter Muskies Inc. Fund
Gary Patton
Ione Johnson Estate Scholarship Fund
Kimberly Acker
Adrianna Alcorn
Summer Amundson
Jessica Andrews
Stefanie Baron
Nicholas Bickford
Tyler Breitweser
Benedict Doe
Louis Eschenbacher
Annie Gillespie
Tiffany Hallin
Katrina Herder
Betty Hoagland
Joshua Klemish
Jeff Larson
Patrick Marsh
Evan Mayer
Beatrice Mitchell
Monty Pintok
Logan Puetz
Cody Rau
Samantha Rickmeyer
Andrew Rudack
Catherine Stagnaro
Rebekah Stone
Kimberly Tish
Nicholas Weeks
Jean Collins Scholarship Fund
Jennifer Fundine
Jean Porwoll Fund
Noelle Bergerson
Sinthea Cheshire
Brenna Chisholm
Samantha Christopherson
Ashley Deem
Daisy Dembouski
Jacqueline DiGiovanni
Sarah Frederickson
Samantha Goldberg
Heather Gretschmann
Zeph Hanson
Chloe Hawks
Valeria Hernandez
Samantha Hines
Alexandra Hohlfeld
Roxanne Jelinski
Elizabeth Johnson
Alexus Jungles
Melissa Karels
Heather Kleve
Tessa Krein
Bobbi Lamont
Jackie Lange
Tina Laxen
Kathryn LeBlanc
Gabrielle Lee
Heather McDaniel
Alisha Monson
Andrea Mortensen
Cassandra Nass
Raya Newbold
Mariah Parks
Patricia Pechan
Ashley Rambow
Alisha Schroeder
Shallen Semmler
Meredith Silgen
Heather Smart
Paula Sufka
Andrea Swiontek
Jocelyn Tanner
Kelli Thompson
Britta Torgerson
Angela Usherwood
Paige Westerlund
Kassandra Wiseley
Pamela Ziemer
Jeff Oliphant Memorial Scholarship Fund
Brady Bordwell
John Pete Humphrey Fund
Kassandra Wiseley
Kenneth and Bernice Codner Scholarship Fund
Lula Andresen
Melissa Berry
Perignon Blanton
Kevin Johnson
Kristen Ziegler
Kenneth M. Krueger Scholarship Fund
Julie Prindle
Krista Houck Memorial Fund
Brooke Dumpprope
Lee Krautkremer Memorial Fund
Isaac Stellmach
Les and Rachel Gray Memorial Scholarship Fund
Katlyn Runyon
Lynn and Paul Hunt Endowment Fund
Jerry Enget
Mariah Nieman
Mahlum Hanson VFW Auxiliary 1647 Scholarship Fund
Jonathan Bocklund
Marie Malskeit Memorial Fund
Scott Sandquist
Mark Danzl Scholarship Fund
Daniel Vosika
Mary F. Tornstrom Memorial Scholarship Fund
Grant Helwig
Faith Kassulker
Brandon Mack
Amanda Wiemer
Maxine Kaiser Russell Literary Scholarship Fund
Stephen Garlo
Maxwell Douglas Adamek Best Endowment Fund
Jennifer Gulseth
Meth Porwoll Scholarship Fund
Andrew Rudack
Michael B. and Jericho Herron Scholarship Fund
Cassandra Wiewel
Michael E. Norris Scholarship Fund
Courtney LaRock
Military Order of the Purple Heart
Maurice Bakkila
Dennis Benjamin
Thomas Bonar
Kevin Johnson
Jeff Larson
Jeffrey McArthur
Travis Schneider
Dakota Sullivan
Miscellaneous Scholarship Fund
Perignon Blanton
Steve Walter
Taylor Zacher
MN Darkhouse and Angling Association – Brainerd Chapter
Gary Patton
Patrick Ruegemer
Monica Tricker Scholarship Fund
Rachel Blanchard
Lacey Carpenter
Tamara Hansen
Alex Rasinski
Myrtle and Ray Little Scholarship Fund
Katherine Bily
Danielle Connor
David Decent
Joel Ransom
Kristen Taylor
Myrtle Ellis Scholarship Fund
Samantha Goldberg
Nisswa American Legion Auxiliary
Heather Davis
Sheila Mills
Michelle Rickard
Stephanie Tougas
Nisswa Women's Club Fund
Kathryn Geyer
Katierae Herron
Nadia Scieszinski
Andrea Taylor
Nisswa Women's Club Scholarship Fund
Angela Erickson
Krystel Sam
Joni Singleton
Oren D. Abraham Scholarship Fund
Alexandra Levandoski
Pat Morgan Scholarship Fund
Jenny Skoog
Patrick Abrahamson Fund
Shawn Thayer
Paul C. Findorff Memorial Scholarship Fund
Breanna Block
Pfeffer/Lehmann Memorial Scholarship Fund
Rebekah Stone
Presidential Scholarship Fund
Kaleb Abelon
Joseph Butler
Darren Griesert
Wendy Petrich
Ray Frisch Family Fund
Myra Horner
Reese/Webb Family Scholarship Fund
Steve Walter
Richard (Dick) A. Ungerecht Memorial Fund
Kelly Tretter
Roy and Mildred Sargent Family Fund
Devon Hutchison
Lexia Klinghagen
Barbara Kramer
Morgan Larson
Tessa Larson
Jessica Stokes
Sally Fawcett Memorial Scholarship Fund
Nathan Bode
Haley Hoskins
Lacie Philippi
Shipman Scholarship Fund
Nathan Bode
Staples General Endowment Scholarship Fund
Trapper Holden
Zachery Lund
Steve Schluender Memorial Scholarship Fund
Derik Todd
Steven C. Amy Memorial Scholarship Fund
Ariel Ronneberg
Stewart C. Mills Sr. Memorial Scholarship Fund
Robert Anderson
Samantha Anderson
Melissa Barton
Christopher Bliesmer
Rachel Breun
Beth Gaulke
Troy Hanson
Madelyn Heino
Curtis Madsen
Lee Nusbaum
Arlyn Sam
Andrea Taylor
Stewart C. Mills, Sr. Scholarship Fund
Christopher Becker
Alyssa Burnos
Christopher Carwell
Travis DeCent
Antonio Enriquez
Nicole LaBorde
Robyn Przybilla
Charlene Rager
Shannon Steele
Kristen Stumpf
Melissa Van Heerden
Sybil B. Nies Memorial Scholarship
Cassandra Wiewel
T.A. O'Brien Law Enforcement Fund
William Hilton
Taber Engineering Scholarship Fund
Zachary Tschida
Ted Soteroplos Memorial Scholarship Fund
Isaac Stellmach
W.W. Thompson Memorial Scholarship Fund
Andrew Rudack
Walter W. Doran Scholarship Fund
Nicholas Bickford
Warren G. and Marion Meyer Marketing Education Scholarship
Riley Atkinson
Taylor Sawyer
Wells Fargo Bank MN Scholarship
Samantha Gorka
William Van Essen Memorial Scholarship Fund
Thomas Bonar
Thomas Chartier
Austin Clark
Stacy Zeigler
Women of the Moose/Suzanne Kidd Memorial Scholarship Fund
Jessica Stokes