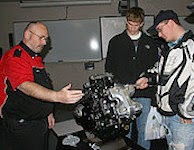 Thirteen Central Lakes College auto mechanics students received their ASE Student Certification.
Having completed the ASE (Automotive Service Excellence) test will help students stand out when interviewing with potential future employers, said CLC auto mechanics instructor Ray Johnson.
Students are: Sam Anderson, Little Falls; Daniel Anderson, Little Falls; Alexander Dalgarno, Brainerd; Patrick Davison, Lino Lakes; Daniel Ehnert, Sebeka; Michael Garson, Babbitt; Hannah Hess, Staples; Linnea Kasper, Little Falls; Joshua Leikvoll, Garrison; Patrick Peterson, Deerwood; Tyler Reem, Brainerd; Joshua Steinke, Sebeka; Andrew Young, Brainerd.
The CLC Auto Mechanics Program is a National Automotive Technicians Education Foundation (NATEF) accredited program.