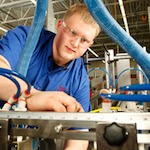 Jeff Keyes, Arnie Anderson and Barry Norenberg from Bosch Packaging recently came to the Central Lakes College (CLC) Staples campus to give a presentation to students of the robotics program and to interview the second year students. Bosch needs to fill multiple positions and internships in their Shell Lake and New Richmond locations.
They brought two graduates from the robotics program hired last year. Kalvin Becker (Isle, MN) and Darin Smith (Brainerd, MN) shared their experiences at Bosch Packaging with current CLC students.
Bosch Packaging Technology, based in Waiblingen (Germany), is one of the leading suppliers in the field of processing and packaging technology. In more than 15 countries worldwide the company develops and produces complete solutions for the pharmaceutical, food and confectionery industries.
Dean Penk and Patricia Anderson of Delkor Systems also interviewed second year robotics students. Established in 1973 in Minneapolis, Minnesota, Delkor has grown into one of the leading U.S. manufacturers of packaging machinery. Many of the most popular brands of food and consumer products are packaged each an every day by equipment designed by Delkor. They employ a number of CLC graduates from the robotics and automated systems program.