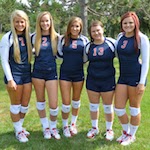 The Raiders Volleyball team will play its first home games this weekend. On Friday, August 29 they face Mesabi and on Saturday, August 30 they will play Vermilion.
The Raiders went 1-3 on the road over the weekend at a tournament hosted by Ridgewater College in Willmar.
The 2014 volleyball team features five sophomores and six freshman as coach Jane Peterson enters her 24th season with Central Lakes College.