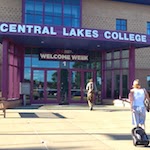 August 25, 2014
Fall semester classes began today at Central Lakes College Brainerd and Staples campuses. The new academic year features extended hours in student services and the college bookstore. Most services will be open from 7 a.m. to 7 p.m. during the early stages of fall semester.
CLC also offers "conciere" services during the first two days of the semester to help students find classrooms and to answer questions.
New students may still enroll for classes beginning this week through Friday, August 29. Students may also register for "late start" classes which begin later in the semester. Contact the CLC Admissions Office for more information.