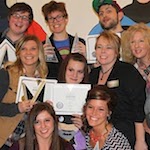 The CLC Media Department
students had a great show at the 2014 American Advertising Awards.
Students from the Graphic
Design, Photographic Imaging and Videography programs competed against
Alexandria Technical College, St Cloud State University and St Cloud Technical
and Community College.
Overall CLC captured 19
silver awards, 16 gold awards, a Judge's Choice Award and the Best in Show
award. Graphic Design student, Hali Danielson, took home the Best in Show Award
for the second year in a row.
For those that won
gold, their entries will be automatically forwarded to district level – the
next level of competition. District 8 is made up of American Advertising
Federation (AAF) clubs from Minnesota, North Dakota, South Dakota and
Wisconsin. If a gold is awarded at district level, it will move on to the
national level. The AAF is the largest group of its kind, with membership of
over 50,000 professionals and students.
CLC Media
Department Student Winners
Allie Berg (Brainerd)
– Silver
Amanda Reger (Wadena)
– Silver
Angela Goff (Motley)-
Silver
Annie Lund
(Albany) – Gold
Carson Berczyk
(Brainerd) – Silver
Colby Abazs (Finland)
– Silver & Gold
Dayton Griggs
(Brainerd) – Gold
Emily Bickford (Breezy
Point) – Silver
Eva Fitzsimmons
(Brainerd) – Sliver & Gold
Hali Danielson
(Deerwood) – Gold (4) & Student Best of Show
Heath Mickelson
(Oklee) – Silver
Hollie Lintner
(Staples) – Silver
Jamie Birkedahl
(Nisswa) – Silver
Jodi Liberty (Brainerd)
– Gold
Joshua Hammer
(Staples) – Silver & Gold
Kaylee Hanowski
(Motley)- Silver (2)
Keri Ott (Verndale) –
Silver
Kimberly Bollig
(Aldrich) – Silver
Lexie Lehrke (Little
Falls) – Gold
Nicholas Cummings
(Moorhead) – Silver & Gold
Olivia Freborg (Tioga,
ND) – Gold
Rob Fitzsimmons
(Brainerd) – Silver & Gold
Sara Justin (Albany) – Gold
Sarah Stawarski
(Brainerd) – Gold & Judge's Choice
Susan Kerfeld (Grey
Eagle) – Silver
Taylor
Finger (Brainerd) – Silver