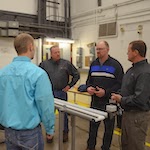 Bosch, the world's largest supplier of automotive components, came to Staples to interview Robotic Automation students for internship opportunities. For over six decades, Bosch Packaging Technology, Inc. has provided the world's leading manufacturers with packaging machinery that is innovative, fast, reliable and cost effective. Bosch is looking for employees
with technical training to continue meeting the needs of their customers.
Fourteen CLC students were interviewed for the five electro-mechanic technician positions available between their Shell Lake and New Richmond Wisconsin locations.

Barry Norenberg, Jeff Keyes and Arnie Anderson from Bosch spent the day speaking with students from the CLC Robotic Automation Program about their company, their available positions and the expectations they have for their employees. This is an excellent example of the strong connection between industry and the programs at CLC.