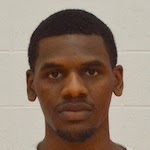 Quincy Bethea tallied 26 points for Central Lakes College while John Jedneak added 15 as the Raiders downed Hibbing 79-69 in Saturday's Northern Division game. Bryan Gichaba tossed in 14 for CLC.
Friday Results:
The Central Lakes College Raiders rebounded from back-to-back losses with a 105-63 win against the Rainy River Voyageurs in a Northern Division game Friday night.
Bryan Gichaba racked up 32 points and 11 rebounds for the Raiders, who shot 57 percent from the field.