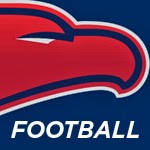 Courtesy of the Brainerd Dispatch • September 22, 2013


ROCHESTER — Rochester Community and Technical College scored 24 unanswered points in the first quarter and went on to saddle the 15th-ranked Central Lakes College Raiders with their first defeat 48-21 in the Southern Division opener for both teams Saturday.
Running back Alex Schliesmann rushed 25 times for 226 yards and a touchdown for the 4-0 Yellowjackets.
Joe Strike led the Rochester defense as he intercepted two passes and returned both for touchdowns.
Yellowjackets quarterback Tanner Menke threw three touchdown passes to Josh Zitzmann.
The Yellowjackets maintained a 472-280 edge in total yards with 361 rushing.