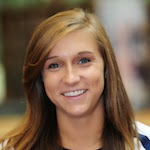 Courtesy of the Brainerd Dispatch • September 22, 2013
by Shelly Summer, Sports Writer
Fresh off of a 3-0 victory Friday night against Rainy River, the Northern Division-leading Central Lakes College Raiders marked up another division victory, beating Hibbing 3-0 Saturday.
"Teams are going to play hard against us," said Raiders head coach Jane Peterson, whose team improved to 6-0 in division play. "They're going to try to beat us. We clearly want to win, and we don't think it's going to just happen, but there could be a better intensity about the team in a match like this. It could've been better but I think it was fine."
Sam Schlangen led the No. 2-ranked NJCAA Division III Raiders in assists with 18 and scored two ace serves and pounded three kills.