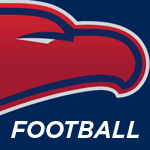 Courtesy of the Brainerd Dispatch • September 8, 2013



VIRGINIA — Andrew Johnson ran for a short score and threw for two more as the Central Lakes College Raiders shut out the Mesabi Norse 20-0 in a non-division game Saturday.
In the second quarter, Johnson ran for a 1-yard score, passed 51 yards to Brandon Kiel for another and found Sam Moriarty for a 25-yard TD, all in the second quarter. Johnson finished 19 of 36 passing with two interceptions for 279 yards.
The Raiders' defense was staunch, limiting Mesabi to 163 total yards and forcing three turnovers.