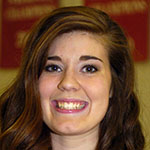 Courtesy of the Brainerd Dispatch • September 8, 2013



ELY — Lindsay Monson and Sam Schlangen turned in big statistical lines as the Central Lakes College Raiders swept Vermilion 3-0 in a Northern Division match Saturday.
Monson led the team with 10 kills and added one dig, four ace serves and a block.
Schlangen contributed three kills, six digs, four aces and 11 set assists as CLC improved to 6-1 overall.
CLC, 2-0 in the division, beat Mesabi 3-0 Friday.