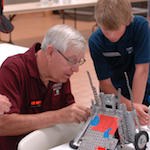 Central Lakes College and the Center of Excellence at Bemidji State University hosted the Summer Engineering and Manufacturing (SEaM) Camp July 8-12 at the Staples campus of CLC. SEaM camp is for students in grades 6-12 and this year 34 students participated from sixteen communities (Brainerd, Pillager, Little Falls, Randall, Long Prairie, Princeton, Motley, Nisswa, Fort Ripley, Pequot Lakes, Moorhead, Ham Lake, Ottertail, Wadena, Staples and Carlos).
The camp provides students with an opportunity to experience hands-on electronics, motor controllers, mechanical drafting, manufacturing machining, and robotics automated systems.
Participants built their robots from kits working in teams of two, under the direction of CLC instructors and mentors, to assemble a robot that is customized to travel an obstacle course, play robot hockey and outlast the competition in a demolition derby on the final day of camp. Over 100 family, friends and interested spectators were at the Staples campus for the robot competition. Robert Stracek from 3M donated prizes for this special event.
The week of activities included a tour of McKechnie Tooling and Engineering in Staples for a real look at careers in the field of engineering and manufacturing.
Winners of the Events
Obstacle Course
1st Place Jaden Streed (Pillager) & Matthew Hughes (Pillager)
2nd Place Eric Kossan (Motley) & Matthew Smith (Motley)
3rd Place Stephen Cooper (Long Prairie) & Gus Robinson (Baxter)
Robot Hockey
1st Place Stephen Cooper (Long Prairie), Gus Robinson (Baxter), Cameron Larson (Long Prairie), Michael Meyer (Randall)
2nd Place Daniel Brown (Long Prairie), Samuel Slettom (Little Falls), Gage Grunst (Wadena), Logan Michalson (Motley)
3rd Place Anthony Angotti (Moorehead), Joshua Lelwica (Pequot Lakes), Chris Summar (Little Falls), Nick Finken (Brainerd)
Demolition Derby
1st Place Jaden Streed (Pillager) & Matthew Hughes (Pillager)
2nd Place Team Stephen Cooper (Long Prairie) & Gus Robinson (Baxter)
3rd Place Team Daniel Brown (Long Prairie) & Samuel Slettom (Little Falls)