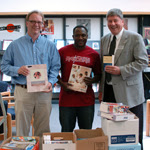 Library staff at Central Lakes College Brainerd campus recently packed boxes full of books for donation to Books for Africa. The books are destined for Jinja, Uganda which is the hometown of CLC international student Dennis Musasizi. Jinja was the first library served by Books For Africa twenty-five years ago. In honor of the anniversary, the Rotary Club of Woodbury, MN is paying to send another container of 22,000 books to Jinja. The books from Central Lakes College will be included in this shipment.
PHOTO – Patrick J. Plonski, Executive Director, Books for Africa (Left), Dennis Musasizi, CLC student (middle) and Larry Lunblad, CLC President (right).
The mission of Books For Africa is to end the book famine in Africa. With the help of donations, this program will help create a culture of literacy and provide the tools of empowerment to the next generation of parents, teachers, and leaders in Africa.
Books donated by publishers, schools, libraries, individuals, and organizations are sorted and packed by volunteers who carefully choose books that are age and subject appropriate.
They are shipped in sea containers paid for by contributions. It costs about 50 cents to send a book from the United States to Africa. Books For Africa has shipped more than 27 million books to 48 different countries since 1988. Over the past 12 months Books for Africa has shipped 2.2 million books valued at $28.3 million to 22 African countries, with an additional 616 computers and 15 brand new law libraries.
They are on once-empty library shelves, in classrooms in rural schools, and in the hands of children who have never before held a book. Each book will be read over and over again. When the books arrive, they go to those who need them most: children who are hungry to read, hungry to learn, hungry to explore the world in ways that only books make possible.