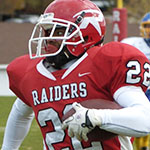 The Central Lakes College football team, ranked 17th in the nation, jumped to a 46-7 halftime lead over Vermilion Saturday and coasted to a 53-7 win, their sixth in seven starts and fourth Southern Division win in Minnesota College Athletic Conference competition. Monticello sophomore defensive back Matt Mogere (shown) started the scoring with a pick six of 44 yards, and he went 82 yards near the end of the half with another interception. DePere, Wis. sophomore running back Beau Bellmore sprinted 53 yards for the second TD. After a long pass from St. Paul freshman Andrew Johnson to Indianapolis freshman Anthony Shelman, Johnson flipped an 8-yard strike to Staples freshman Blake Petrich for the third TD six minues into the game. Images:
http://www.flickr.com/photos/58518185@N04/
A botched snap over the Vermilion punter's head gave CLC a safety. Before the first quarter ended, Johnson scored on a 46-yard, left-side keeper as defenders took the fake handoff to Baxter sophomore Sean Nokken.
The visitors got on the board with a 56-yard pass TD at :05 in the first period to make it 30-7. Reserves began to fill positions for CLC as the second quarter began.
Sophmore QB Skyler Scherer of Denver, Colo., launched a scoring pass to Coon Rapids freshman Bill Holder for a 34-yard score.
At 2:44 in the first half, freshman placekicker Andrew Leonhardt of Hamburg booted a 23-yard field goal after Vermilion's goal-line stand. Just 51 seconds remained in the half when Mogere snatched his second pass for a score to give CLC its 46-7 mid-point lead.
Tre Deadwiler, freshman defensive back from Madison, Wis., put an exclamation point on the situation with his interception as the half closed. In the third quarter, Nokken scored on a 14-yard run and Leonhardt's kick closed out the day's scoring. Leonhardt scored 10 points for the Raiders with his solid kicking.
The Raiders, the only unbeaten Division team, play at Ridgewater Saturday in the regular-season finale and the Battle for the Axe, which they lost last year. A win will secure the regular-season title and set up a home game on Oct. 20 vs. the Northern Division's fourth-place team in the playoff quarerfinal round. Ridgewater lost at Rochester, 47-15, Saturday. Other scores: Mesabi Range 20, Fond du Lac 0; Mn West 37, M State 0; Northland 34, Itasca 14.