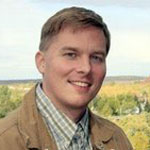 KAXE Northern Community Radio on Saturday,
June 16
will be airing live from Central Lakes College in Brainerd its new
Great Northern Radio Show
from 5 to 7 p.m. in Chalberg Theatre. Tune in or join the live audience. Tickets are free but should be reserved in
advance by calling 800-662-5799. The show will have local actors and musicians like The
Bitter Spills, Seth Doud & Eric Pollard as Actual Wolf. Aaron Brown (shown) is the host. Two previous shows have been produced at Hibbing and Bemidji. Audience members are asked to be seated no later than 4:30 p.m., and most of the show's performers participate in a rehearsal the day before the live broadcast. Dwayna Paplow of the Theatre Department at CLC is assisting with sound and other technical aspects. Local actors Sue and Charlie
Johnson, Dave Vieths, Jon Bjorquist and Nancy Waller will be performing a skit. KAXE is located at 89.9 FM in the Brainerd area. The Grand Rapids-based non-profit, grassroots station is at 91.7 FM, and a new channel in the family, KBXE, at Bemidji/Bagley is at 90.5 FM. The station also offers live streaming on the Web.
For more go to
http://www.minnesotabrown.com/2012/06/great-northern-radio-show-in-brainerd.html