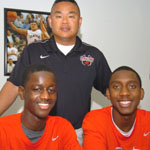 Two members of the 2012 Class 4A state high school basketball championship team from Osseo will play for the Central Lakes College MCAC championship men's team in 2012-13. Joining the roster of the defending Minnesota College Athletic Conference champs from 2012 will be 5-8 guard Benji Subah (left) and 6-5 forward Bryan Gichaba. They were members of the Orioles squad that went 30-2 last year and nudged Lakeville North, 49-47 for the state title.
Bryan scored in double figures four times, including games of 16 and 15 points, respectively vs. Anoka and Armstrong. Known for always giving 100 percent on the basketball court, Bryan is described as someone with "a lot of potential," said Coach Jim Russell of CLC.
Benji is a playmaker with exceptional quickness and good stats in assists (31) and steals (32), along with his team's "Most Improved" award from the 2011-12 season. Coach Russell said "We are looking for a point guard with the qualities Benji brings to the game."
These are the first two recruits from Osseo in Coach Russell's 15 years at the
Brainerd college. Earlier this spring CLC signed Nathan Holm, the Pine
River-Backus all-time scoring leader, and all-conference players Alex
Stafford of Henry Sibley and John Jedneak of Princeton in what is shaping up to
be a formidable freshman class.
Coach Russell said he expects two athletes
from Robbinsdale Cooper to join that class next week.
Last year's Raider team was ranked No. 1 much of the campaign in NJCAA Division III. CLC finished fourth in the national tournament, winning its last two games in a 29-4 season.