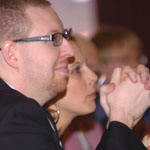 Congratulations to the new president of the Minnesota State College Student Association: Steve Sabin from Central Lakes College. He is the first CLC student to be elected to the statewide office, a post of leadership for some 100,000 Minnesota students. He will assist as an advocate for higher education accessibility, quality, and affordability in the Minnesota State College and Universities system. "I am determined to do whatever it takes to get our leaders organized and to fight for students so that out two-year colleges are affordable and accessible," Steve said. Meanwhile, he continues to earn his Practical Nursing diploma and next year complete work for the Associate in Arts degree at CLC.
Video:
http://www.youtube.com/watch?v=U_KlenJQSLY
and Steve received Student Leader of the Year at this statewide event. Watch the video:
http://www.youtube.com/watch?v=astrEsedSOk
Other students from CLC attending the General Assembly April 20-22 at Breezy Point were Catie Sabin (Steve's wife) who is a North Central Regional Governing Council representative; Denny Benjamin, a platform committee member elected to serve as a regional rep; Adam Annis, Katie Tast, Chris Bosquez, elected as a platform council rep; Nick Weeks, elected as a regional platform council alternate; Shaun Imgrund, elected as a regional council alternate; Samantha Tri, and Eva Belsheim.
Jessica Heron, a practical
nursing instructor at CLC, received the 2012 MSCSA Instructor of the Year award. Steve Sabin received the 2012 MSCSA Student Leader of the Year award.
Both the Staples and Brainerd Student Senates received the Star Campus Award for completing tasks geared toward involvement in MSCSA initiatives and advocacy work.
These
tasks included: Sending
students to Advocacy Days at the MN Capital; Sending
a student delegation to advocate in Washington DC; Submitting
pictures of students promoting MSCSA initiatives on campus. The Brainerd campus received a large outdoor canopy tent for use as a shelter when hosting future events. The Staples campus received a placard that is the same as located on the wall outside the Brainerd Senate office.