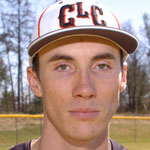 The Raiders baseball team split a doubleheader with Ridgewater Wednesday at Findorff Field, losing the first game, 10-6 and winning the second, 10-0 behind two-hit pitching by Taz Seibert, went the distance. The freshman from Hamburg didn't walk a batter while fanning Warriors. Coach Pat Held said this one was one of the best efforts this season by his ball club, which showed skills both at the plate and in the field. It was a nice 61st birthday present for Pat, who is in his 43rd year as a coach of baseball at various levels.He was impressed by the team's two-out hitting performance. CLC, which improved its Southern Division record to 3-3, scored five runs in the second inning with two out. CLC freshman Trevor Woodruff of Mountain Home, Idaho poked a 3-run triple as a big-stroke highlight. Derek Pihlaja finished 3-3 with two RBIs, Pete Lucken was 3-4 with two RBIs,
Tyler Lenz was 2-3 and Sean Dormanen was 2-4 with an RBI. In the first game of the day, Ridgewater escaped. CLC's Pihlaja was 2-4 with two doubles and Hunter
Young was 2-2 with an RBI. The Raiders trailed 7-5 before scoring a run in the sixth. CLC loaded the
bases with one out, but the next two batters went down swinging. Ridgewater nailed the win
with three runs in the top of the seventh. Overall: CLC 7-29. Next: CLC at Anoka-Ramsey 1 p.m. Saturday (2), CLC vs.
Riverland at Austin, 1 p.m. Sunday (2).