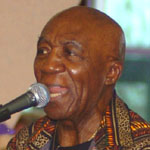 Cyril Paul and the Calypso Monarchs, a band from Trinidad,
performed Wednesday in the cafeteria at Central Lakes College as a kick-off for
Friday's Celebration of Nations at CLC. The lunch-hour theme included a sample
of ethnic food, Caribbean Chicken. Along with featured musical performers,
assorted ethnic treats will be available at the Celebration of Nations. The CLC
Office of Diversity and Equity, Diversity Leadership Council, International
Student Club, and Student Life are hosting the celebration Friday from 5 to 9
p.m. in the gymnasium on the Brainerd campus, concluding with
fireworks.