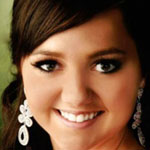 Bailey Wachholz of Nisswa, 2012 Miss Minnesota's Outstanding
Teen, will give a teenager's perspective on Alzheimer's disease in the first
day of a May 15 and 16 educational forum at Central Lakes College in Brainerd. The forum is sponsored by the Lakes
Area Memory Awareness Advocates (LAMAA) and seven other organizations. The May
15 program is from 3:30 to 8 p.m., and the May 16 program is from 7:30 a.m. to
noon in the Business and Industry Center of the Brainerd campus (Door No. 6). Wachholz's breakout session is
scheduled for 5:15-6:15 p.m. and 6:30-7:30 p.m. on May 15. She has a message to
raise awareness as her platform in pageant competition, including the Aug.
14-18 Miss America's Outstanding Teen competition in Orlando, Fla.
Her father Duane was diagnosed with
early-stage Alzheimer's when Bailey began competing at age 13. She developed an
education program aimed toward children in grade school through college-aged
students and has spoken to more than 5,000 since creating it
Wachholz's mother Pam will present the "Family Caregiver Perspective"
in break-outs on May 16, when a morning forum concludes the event,
Several speakers will repeat their sessions both days, including keynoter
Terry Barclay, a neuropsychologist, who will present "Living Well with
Alzheimer's" at 4 p.m. May 15 and at 8 a.m. May 16.
Barclay studies the changes that occur in the brain as people age. He
specializes in cognitive evaluations of older adults who are experiencing
memory problems, changes in concentration, language, and other thinking skills
as part of the normal aging process or as a result of diseases such as Alzheimer's
disease, Parkinson's disease, stroke, and other forms of dementia.
Another presenter on both days will be Lori La Bey, whose session is
entitled "Alzheimer's Disease and
Dementia — Shifting from Crisis to Comfort Care." La Bey is the founder
of Alzheimer's Speaks, a Minneapolis-based advocacy group that provides education
and support for those dealing with dementia and care-giving.
Other presenters are Julie Eggers Huber, Corrie Brown, Rana Peeling,
Lisa Sanders, Jon Knopik, and Kayla Farr.
Co-sponsors are Central Lakes College, Central Minnesota Council on
Aging, Good Samaritan Society, Home Instead, Lakewood Health System, Edgewood
Vista, and Horizon Health Inc.
Admission is $10. To register by phone with a credit card call (218)
855-8142, toll-free 800-0346 ext. 8142 or online at http://clcmn.augusoft.net and
for more information contact Kori Busho at kbusho@clcmn.edu or (218) 855-8139.