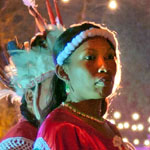 A special set of Cultural Thursday
presentations have been added to the April schedule at Central Lakes College in
Brainerd to take advantage of a slide presentation on Suriname's Amazon Delta by
CLC sociologist Gary Payne.Gary and Pine River teacher Mary Rosenberg
traveled across this tiny South American nation over twelve days in March,
loaded with camera equipment. Gary said, "Suriname's history is one of the most
unusual on the planet. It was called Dutch Guyana during centuries of slavery
when large numbers of African slaves were brought
over. But as the African slaves escaped and rebelled against
the plantation owners, the Dutch brought in large numbers of indentured slaves
from Pakistan, India, China and Indonesia. Two
presentations will take place on Thursday, April 19 in the Brainerd campus
lecture hall (E354). The first starts at noon and second presentation at 7
p.m. Admission is free, the public is
invited.