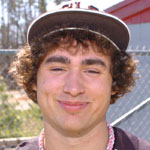 Crossover tournament
AUSTIN — Taz Seibert pitched a complete game and went 2 for 3 with a solo home run and three RBI to lead Central lakes College's baseball Raiders to a 12-2 win vs. Fond du Lac in the Crossover Tournament Saturday. Taz struck out two, walked one, and scattered four hits as the winning pitcher. Tyler Lenz went 4-4 with a triple, Jaron Hanson slapped a double for one of his two hits, and Joe Gaida also ripped a double in his 2-3 plate showing. In the second game, Ridgewater defeated CLC, 12-6. Taz went 2-2 with three RBI, Jaron belted a double for two RBI, and Tyler drove in a run with his two-base hit. Next: at Collegeville Wednesday vs. St. Johns JV.
First day results
Dustin Motschenbacher kept the Riverland Blue Jays off balance for most of
Friday's second game in the Crossover tournament. The freshman from Wadena struck out one, walked one and allowed just six
hits. Three errors, however, netted a 6-4 loss. The Raiders led, 4-2, in the bottom of the sixth. An
infield single, an error and a walk loaded the bases. Trey Thompson hit an RBI double, Bryan Yackley hit an RBI single and Sean
Dormanen went 2-4. Taz Seibert went 2-4 and Jaron Hanson and Pete Lucken both hit RBI doubles
during the Raiders' 9-5 loss to Hibbing in the first round Friday.