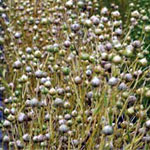 The Central Lakes College Agricultural and Energy Center at Staples will receive
a $193,000 grant from the Minnesota Department of Agriculture to continue
biofuels research. The
Center is one of nine bioenergy grant recipients announced by Dave Frederickson,
state commissioner of agriculture. The $2.4 million award is based on
recommendations from the Next Generation Energy
Board. The new grant to Central
Lakes College will support the continuation of a previously funded project in
which various oilseed crops, such as canola, camelina (shown), or sunflowers, are being
grown and converted to biodiesel using small-scale processing technology. Feed
trials will be conducted using the meal products created from oil
extraction.
The initial 2008 NextGen grant that
stimulated energy crop investigation at the Center resulted in two conclusive
findings. One finding was that cold
strain miscanthus thrives in Minnesota and far surpasses its nearest competitor
in sheer tonnage produced per acre. The
other finding was that after growing the oilseed crop camelina, harvesting it,
processing it with a mechanical press, and utilizing the oil as fuel in CLC's
diesel engines, small-scale fuel production is
feasible.
The
energy crop production project has two goals: 1. Establish one of the first
commercial fields of miscanthus in Minnesota and bring it to market, and 2.
Develop a small-scale biofuels program that will be competitive with or less
cost than current diesel fuel prices.
The
Central Lakes College Agricultural and Energy Center is located at the Staples
campus, where Robert Schafer is the director. The center uses 350 irrigated
acres and has 25 acres of non-irrigated farmland, with approximately 150 acres
available from collaborating farmers.