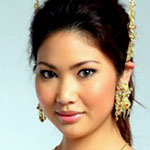 Two best friends from Thailand came to Central Lakes College to follow their dreams of success in America. They excelled, graduating with honors to earn admission to the University of Minnesota.
Nutthanit Towan
(top) earned her first university degree at age 20 after demonstrating exceptional leadership and community service qualities at CLC. She earned her master's degree from a top Thai university and is a doctoral candidate. Nutthanit, a Miss Thailand Universe 2007 and runner-up Miss Globe International 2008, has started a company in Thailand to "promote my country in the eyes of the world."
Pinchat Chatpaitoon
followed Nutthanit to CLC, and while learning English she demonstrated a commitment to education. She maintained high academic honors through studies at the Carlson School of Management as recipient of the Outstanding Academic Achievement Award with a 3.93 grade-point average. Pinchat has been certified by the Minnesota Society of Professional Accountants and works as a Certified Public Account. "Central Lakes College allowed me to find my voice," she said, "and changed my life."
Nutthanit:
"When I was young, I dreamed of being Miss Thailand, I wanted to promote my country to the eyes of the world," she said., noting that her family emigrated from Vietnam.
After completing studies at Central Lakes College, Nutthanit earned her bachelor's degree from the University of Minnesota where she was in the Entrepreneurship Club. "This organization taught me a better understanding of how business operates, and effective ways of working with people," she said.
She returned to Thailand, to manage a family business. There she pursued a Master's in labor economics and human resource management at Chulalngkorn University, one of the top universities in Thailand.
"Working as a public relations and a brand manager of PB Partners Group, I've developed not only a real passion for understanding customer needs," Nutthanit said. Much of her work involved analyzing market trends and consumer dynamic and developed creative strategies that differentiate the company's products in the market place.
"Apart of my full time job, I chose to do what I am good at and what I enjoy," she said. "I opened a company to support several business units including beauty pageant, modeling and teaching make up. My small business is involved deeply with my personal interest. At the moment, I hold a license to organize Miss Globe in Thailand and Philippine. Why do I do so much? This is the question I often get, but I can only answer that, "if I am capable of doing it all while being happy, why not do it all."
She concludes, "A true success comes when something is given and shared with others, and teaching is fulfillment for me."
Pinchat:
The 2006 Central Lakes College honors graduate finished at the top of her class at the University of Minnesota Carlson School of Management. She earned the Master of Accountancy degree.
She has worked hard to earn everything.
From January to June she was intensely focused on her goal. She had Monday classes stretching well into the evening, a Saturday CPA review class on Saturday, and spent 24 hours each week studying for the CPA exams.
"I didn't have time to do anything with friends," she said. "I didn't celebrate my birthday, Mother's day, Easter, or any other holidays. I was missing these things, but looking back I am so glad that I studied hard."
"Pin" obtained full-time job at Ernst & Young as a member of the assurance services practice staff. She is a Certified Public Accountant.
"The CPA examination is rigorous," she said. Less than half of those taking the test pass all four parts on their first try within the 18-month allowable period. "You must get at least 75 percent correct answers on each part."
She also is required to complete the professional ethics course within two years and obtain one year of work experience to receive the Minnesota CPA certificate.
Pin came to the U.S. as an exchange student assigned to Mercer, Mo., attending for one year before she returned to Thailand to finish high school.
While earning a 3.97 GPA at CLC, she participated in many activities designed to enrich the campus and community. She and Nutthanit coordinated several public functions that shared Thai culture. "The college changed my life," she said. "It allowed me to find my voice, to grow, and develop my language skills."
Her sister Poom followed her to CLC and the University of Minnesota to major in architecture. The youngest sister, Alex, went to Metropolitan State University. "Nutthanit, Poom, and I have all fallen in love with CLC," Pin said. "It is not only my school but also my home."