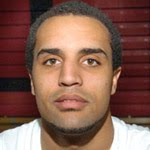 Men win 16th — barely

FERGUS FALLS – Anthony Kelley (left) made a penetrating baseline shot with four seconds left to lift the Central Lakes College Raiders to a 73-72 win over Minnesota State Community and Technical College (M State) Wed., Jan. 5. M State led by as many as 14 points in the game and held a 43-34 halftime lead. The only time they trailed in the second half was at the end of the game. Kendall Brown led the Raiders with 21 points on 9-of-15 shooting and pulled down 11 rebounds. Nick Grewe had 14 points and 8 rebounds. Maurice Hernandez scored 11 points and Nash Faulk finished with 10 points. Point guard Marcus Ayala had 8 points, 6 rebounds and 5 assists. CLC shot 42.5% (31/73) from the field and made only 19% (4/21) of their 3's. The Raiders were 8-of-19 from the free throw line. The Raiders remain undefeated at 16-0 and are ranked No. 4 in the nation in NJCAA Division III.
Women fall

In the Southern Division women's basketball opener, M State defeated CLC a 73-64. M State made 47% (29/62) of their field goal attempts and hit 10-of-15 free throws in the game. Stephanie Neugebauer had 19 points, Nikki Pearson 13, and Carlee Davich 10. M State held a 51-49 advantage on the boards. CLC shot 25.6% (20/78) from the field and made only 21% (5/24) of their 3-pointers. They hit 19-of-29 free throws.