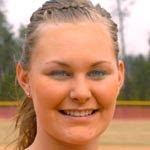 The Central Lakes College women's fast-pitch softball team ended its season on Saturday, May 15 at Grand Rapids, losing the Region 13B championship game to the nation's second-ranked team, Itasca. Thus, the Raiders got within one game of the national tournament and finished with a 27-16 win-loss record for 2010. Itasca defeated CLC six times this spring, but the Raiders pushed the Vikings into extra innings twice. Itasca is led by All-American Katie McBride, daughter of the team's coach and an almost-untouchable pitcher. In the 9-2 loss to the regional champs, CLC scored on solo home runs by Trisha Wippler and Alicia Johnson (pictured). Ashly Erickson pitched the the Raiders, giving up 14 hits. In golf, the CLC women competed at Daytona, Fla., in the National Junior College Athletic Association championship tournament. The team includes Tracy Gustafson, Caitie Kavanaugh, Melissa Welshons, and Morgan Morris. CLC was in 19th place out of 19 teams after the first round. Tracy: 51-53= 104; Caitie: 46-59=105; Morgan: 54-54=108; Melissa: 54-56=110. Team: 427. Top 5 Teams: Daytona State 1. 298; 2. McLennan, 312; 3. Redlands, 320; 4. Western Texas, 323; 5. Texarkana, 326. Day 2: CLC is closing in one the 18th place team from Bismarck, N.D., which held a one-stroke edge over the Raiders, 855-856 after 36 holes.
Day 2 CLC scores:
Tracy 101, Melissa 102, Caitie 112, Morgan 114.
Day 3 scores:
Tracy 95, Melissa 107, Caitie 119, Morgan withdrew. CLC was listed as Did Not Finish along with Bismarck and Pima.