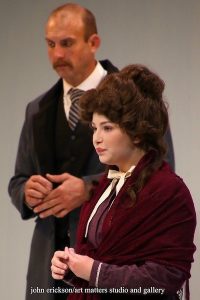 Brainerd Community Theatre will present a live screening of their recent production 'Scotland Road' on Tuesday, November 17 at 7 pm in the Chalberg Theatre on the Brainerd Campus of Central Lakes College.
The play was recorded and streamed November 4-7. Patrons who were unable to stream the production or who would prefer to see it on a large screen will be able to reserve a seat for the November 17 screening.
"We will require face coverings and social distancing in the theatre," said BCT Director Patrick Spradlin. "State guidelines allow for 1/4 capacity of a venue, so we'll have no more than 67 seats available for the screening." Patrons will be required to complete the online COVID screening tool prior to attending.
'Scotland Road' is a mystery play written by Minnesota playwright Jeffrey Hatcher. The premise: it's 1992, and a woman dressed in turn-of-the-century clothing has been found floating in the north Atlantic on an iceberg. When rescued, she says only one word: Titanic. She's been brought to a place to be studied and questioned in order to determine who she is, and what her story really is. The play is full of twists and revelations.
Tickets for the live screening are available from the CLC Theatre Box Office at (218) 855-8199 during box office hours of 10 a.m. to 2 p.m. Tuesday/Thursday, or online at www.clcperformingarts.com  The production will also be available for home streaming on that date.