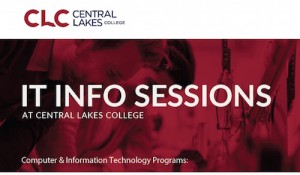 Central Lakes College will hold several information sessions on its Computer and Information Technology programs.
The 30-minute info sessions will be at 5:30 p.m. on Feb. 24, March 30 and April 27 in the cafeteria of the Brainerd campus. At the sessions, speak with instructors and advisors, explore IT programs, and careers and certification opportunities.
For more information email Becky Best at rbest@clcmn.edu. Walk-ins are welcome.
CLC's Computer and Information Technology programs include:
Mobile App Development AAS
Computer Information Technology AAS
Computer Network Administration AAS
Network Administration – Cisco AAS
Network Administration – CyberSecurity AAS
Healthcare Technology AAS
Computer Support Specialist Diploma
Microsoft Office Professional Certificate
Help Desk Specialist Certificate