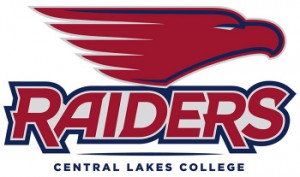 Central Lakes College announced today several members of the Raiders football team have either received scholarship offers to play at four-year universities, or have committed to play.
"It is exciting to see individuals from within our football program work hard to create such great academic and athletic opportunities," said CLC head football coach Greg Medeck. "Making the transition to the university level is tremendously rewarding and something to be proud of. I look forward to following the success of each of these former Raiders."
At least six additional players are finishing their degrees at CLC and will be making their announcements of their future academic and athletic careers by the end of the semester.
The following player(s) have already transferred and enrolled:
Jake Faber, QB: Angelo State (TX)
Curtis Brisk, OL: Valley City State University (ND)
Beau Wilhelm, WR: Montana State University-Northern (MT)
Trey Blanchard, RB: Montana State University-Northern (MT)
The following player(s) have committed to attend school and play football in the fall:
Kieran Johnson, WR: University of Minnesota
Casey Giesseman, OL: Valley City State University (ND)
Will Kramer, TE: University of Wisconsin-River Falls