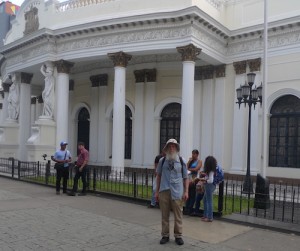 Add a little more culture into your life with CLC's Cultural Thursday events. The lineup spring semester will enrich your life. Each event is free and open to the public. For more information on CLC Cultural Thursdays, contact Tracey Kloeckl-Jiménez at 218-855-8183 or tkloeckl@clcmn.edu
Thursday, Jan. 14: At noon in the Chalberg Theatre, Brainerd campus. Community member Larry Fisk will speak on the current political and cultural situation in Venezuela, after having just returned from a December 2015 trip. Elections were just completed in which the political party opposing that of the late Hugo Chavez, and current president Nicholas Maduro took control of the legislature.
Thursday, Feb. 4: At noon in the Chalberg Theatre, Brainerd campus. In conjunction with Black American History Month, Mixed Blood Theater will perform its regional touring production of "Daughters of Africa." Fueled by the songs of Lena Horne, Aretha Franklin, Queen Latifah and many others, this music-driven celebration of African American women's triumphs and accomplishments features a collection of profiles of the famous and the forgotten. This event is sponsored by the Office of Diversity, Equity and Tribal Relations.
Thursday, March 3:  The secrets of St. Kitts will be revealed in two presentations of photo images by CLC sociologist Gary Payne at noon and at 7 p.m. in room E354, Brainerd campus. St. Kitts and nearby Nevis Island in the Caribbean Sea make up the smallest nation in the Western Hemisphere and are mostly known as tropical tourist destinations for wealthy travelers. But the tumultuous five centuries of the tiny nation's history since Columbus contain some interesting connections between our founding fathers and what is still happening on the islands today. The presentation will focus on this history, culture, people and natural environment of the islands.
Thursday, April 7: At noon in the Music Rehearsal Room, Brainerd campus. Jaylani Hussein, executive director of the Council on American Muslim Relations in Minnesota and a Somali-American civil rights leader, will speak on the Muslim and immigrant experience in Minnesota in an effort to assuage the recent surge of Islamophobia in the U.S. Hussein stresses his belief in peace, cultural understanding and civil liberties. Hussein's second presentation (hosted by the Brainerd Area Coalition for Peace-BACP), will be held in the evening. (Time and location to be determined).
Thursday, May 5: At noon in the Chalberg Theatre, Brainerd campus. In conjunction with Cinco de Mayo, a Long Prairie Children's Dance Troupe under the direction of Carlos Pesqueda will perform several Mexican folkloric dances. The Long Prairie cross-cultural organization Dreams United/ Sueños Unidos will also host a Cinco de Mayo event on Friday, May 6 in the Long Prairie Grey Eagle High School from 5-7:30 p.m.