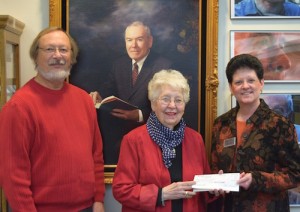 than $5,300 was added to the Central Lakes College Foundation Jon Hassler Scholarship fund through the proceeds of the Jon Hassler Festival 2015, which occurred in June.
Retired CLC Librarian Larry M. Kellerman and retired CLC art instructor Evelyn Matthies presented the check to the CLC Foundation Dec. 22.
Kellerman and Matthies, who co-chaired the event, along with retired CLC English instructor Joseph Plut who conceived the festival, were pleased with the success of more than 100 participants and presenters. The festival was funded through donations and participant registration fees.
Minnesota novelist Jon Hassler, a former CLC English instructor for whom the CLC Library is named and for whom the Jon Hassler Library is a National Literary Landmark, has a CLC Foundation scholarship fund, which is now worth in excess of $25,000. From this fund each year, a student pursuing a Liberal Arts Degree who was a Staples High School graduate in their second year of college receives a $1,000 scholarship to attend CLC.
Hassler launched his writing career while teaching English at CLC (then Brainerd Community College).