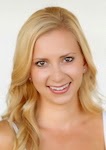 Ashley Hendricks started at Central Lakes College as a PSEO student during her senior year of high school in Brainerd.
That was when she first heard about the college's Nursing Program.
"I made my choice to go to Central Lakes College based on the remarks of other students and affordability," she said.
After graduating from CLC with her Associates Degree in Nursing, Hendricks finished her Bachelors of Science in Nursing.
"I am thankful I had my two-year RN degree and was able to start working immediately while finishing my four-year degree," she said. "I gained great experience while actively working in my field, and this was very beneficial while completing my four-year degree."
Hendricks' first job in nursing was at Essentia Health, where she worked in general medical, surgical and telemetry units.
"After two years of acute care I discovered that my true passion is caring for critically ill patients," she said,
Today, she's working in the Medical Intensive Care Unit (MICU) at Region's Hospital Level 1 Trauma Center. There, she is responsible for managing two patients that can both be hemodynamically unstable.
"I enjoy the challenges and learning opportunities that arise every day in our MICU as I am always learning about new diagnoses and treatments," she said. "Patients in the ICU are very vulnerable and ill; it's amazing that I get to take care of them while they are intubated, sedated and fighting for their life. At the same time I not only care for the patient but I help family members understand what's happening with their loved one by providing them with continuous education; this responsibility can be very rewarding."
A career in nursing demands a high level of critical thinking skills and continuing education.
And it all started at CLC. Her most cherished memory at CLC was the Registered Nurse Pinning Ceremony, where she was awarded the Clinical Excellence Award.
Hendricks said CLC was "a great stepping-stone" that allowed her to complete a two-year degree and not have a mountain of debt after.
"By going to Central Lakes College I was able to discover my passion for nursing through taking generals and talking with other students and advisors," she said. "I was given the building blocks to further advance my career professionally and to also advance my degree."
Hendricks' advice to other students: "Don't postpone achieving your dreams. Get your feet wet and start taking classes immediately. Without getting started how will you ever discover what your passion is?"