The community is invited to attend the next Rosenmeier Forum: The Future of Rural Minnesota at 7 p.m. on Wednesday, April 12, in the Chalberg Theatre, Central Lakes College Brainerd campus. The event is free and open to the public. Speaking is Julie Tesch, president & CEO of the Center for Rural Policy & Development. She is a published author and speaker.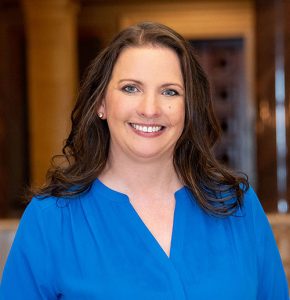 "Julie brings a remarkable background of experience and passion for the goal of preserving and improving the quality of life for the people of Greater Minnesota," said Steve Wenzel, Executive Director of the Rosenmeier Center for State and Local Government. "Julie was raised on a dairy farm in rural Minnesota and through her dedication and hard work, has served in the top positions at the national level for the Future Farmers of America, the National 4-H Federation, the national Farm Bureau, and agricultural education at every level from K-12, to higher education for community colleges and state universities. The Rosenmeier Center is indeed fortunate to have Julie Tesch for our next Forum speaker." 
More in Julie Tesch 
Julie Tesch is a published author and speaker who resides near Waldorf, MN.  She grew up on her family's dairy farm in southern Minnesota and was actively involved in 4-H over the years.  After she graduated from the University of Minnesota with degrees in Applied Economics and Agricultural Education, she started her career as a 4-H Youth Development Educator in her home county of Waseca. During her time in Waseca County, she was able to help youth realize their potential through 4-H. After her time with 4-H she went on to work in agricultural education at the University of Minnesota, the National FFA Organization in Indianapolis, and the American Farm Bureau Foundation in Washington, DC.   
Outside of work you can find Julie volunteering for 4-H and FFA programs along with her newfound hobby of gardening.  She is slowly working towards becoming a certified Master Gardener.  After 25-years of living in urban areas she is happy to be back in rural Minnesota.