The fascinating stories of Puerto Rico will be the focus of the May 5 Cultural Thursday at Central Lakes College. Tatiana Colón, a current liberal arts student and a native of Puerto Rico, and Tracey Kloeckl-Jiménez, CLC German and Spanish Instructor, will present Puerto Rico: A Kaleidoscope of Overlapping Cultures at 12 noon in the Chalberg Theater. Interested parties can also attend via a free Zoom Webinar. Please visit https://tinyurl.com/2s67ak7k  to pre-register for the event.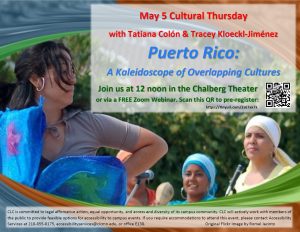 This beautiful Caribbean island state is a place of contrast and fusion. One cannot ignore Puerto Rico's geographically significant location as an entry point to the rich and varied lands and peoples of the Americas. Throughout its history, Puerto Rico has hosted encounters between the people of the Americas and those of Europe and Africa. With its blended historical influences: from Indigenous roots to Spanish-European conquerors, from the Spanish colonizers to the African cultural influences, from the mestizo Puerto Ricans to the U.S. Anglo-American influences of the 20th and 21st centuries, Puerto Rico has developed a complex and multi-faceted identity which is truly only understood by Puerto Ricans themselves.
In this presentation, participants will be encouraged to begin to examine these layers of Puerto Rican identity, illustrated through an understanding of the different belief systems of the aforementioned groups, some of the major historical events, and the language, food, music and customs of the Puerto Rican people. This multi-faceted identity has influenced the complexity of perspectives in confronting current day issues of climate change, political administration and financial hardship. Known as Boricua, this island nation has many stories to tell and lessons to teach us, if only we are willing to listen.
For more information about this presentation or the Cultural Thursday Series, please contact Jason Edens at 218-855-8214.