CLC Raider Connect Coach Toy Ross-Sullivan graduated with her AA Degree this semester! We sat down with her to hear about the ups and downs of going to school while working full time, being a mom and balancing classes.
Why did you decide to get your AA Degree? What went into the thought process? 
As a first-generation student, I always knew that I wanted to work towards a bachelors degree but the timing was always wrong. I started at SMSU in Marshall, MN in 2002 after graduating from Yellow Medicine East High School in 2001 and having my first son. Soon after, I was blessed with my second son and had to drop out of school. I told myself that when my kids were in school, I too would go back to school. I did just that in 2008 when I enrolled at CLC for the first time and took the Communication Art & Design program, earning my AAS in 2010. I had hopes of going right into the graphics world but found myself working in a human services profession where I stayed until being offered a position at CLC as a Raider Connect Coach. In this position and working with our wonderful team I realized that even though I was really experienced in working with people and this job was everything I had worked up to, I was still behind my peers educationally. So, I wrote down the list of classes I needed to complete my AA on post-its and had it set up on my goals wall in my office. Initially it was going to take about three (3) semesters because I was only planning on doing 1-2 classes a semester to finish. But, with the motivation and encouragement of my friends and students, I took all four (4) classes this spring semester and graduated with nine (9) of my students. A huge motivator was COVID. I know a lot of us dislike the pandemic and what it has done to disrupt our lives, but for me, it was ideal timing. Being able to work full-time, mostly from home it couldn't have been better timing. A couple of my classes were solely online and the others, I was able to take during my lunch hour.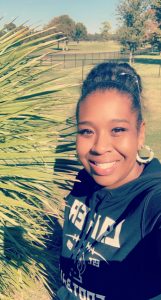 You juggled a full course load on top of work and being a mom. How did you do it?
It wasn't easy let me tell you! You know working with my students and hearing how some of them have part to full-time jobs and they're balancing their personal lives and just living and then they come into my office for our check-ins and they tell me they have so much going on and before, I was like, "we talked about this, time management", "just say no and put your studies first", and the cliché of mothering and thinking, "you're not applying yourself!" was a whole different perspective this semester. I know that college is tough at times and that there's a lot that goes into school in itself, but being reminded first-hand of balancing school, work, family, and everything else in between, I had so much more empathy for my students with families. This experience was very humbling and reminded me that these students who have more than just school in their lives, they're the real MVP's! It's one thing to encourage, mentor, and support our students from a one-way perspective because you don't always fully understand the depths and the drive they have to pursue their education. But when I was able to do it right alongside of them, I cried, I laughed, I contemplated withdrawing, and then with motivation from THEM, I kept going and here we are! And one of the biggest and most memorable moments about this graduation season aside from watching my students graduate, was watching my oldest daughter graduate from the CLC Phlebotomy program and to watch my middle son graduate from high school at the end of this month! So, sharing this moment with them and the rest of my kids just goes to show, you're never too old to continue your education.
Your advice for other students in similar situations?
If you want to learn,  you're compelled for higher education, you set those goals, put them on a post-it and do it! It doesn't matter when you've gotten to where you wanted to be, it doesn't matter how long it'll take you to get there, what matters is that you're going, you're doing, and you got this! I believe in you!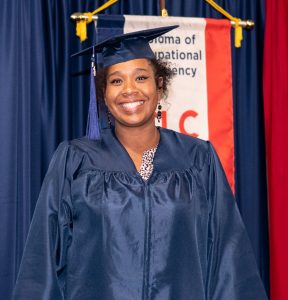 How did obtaining your AA Degree help you with coaching your students during your day job?
There was no mercy! I had some students come onto zoom talking about how they just "can't" and I'd be like can't what? And when they would be discouraged or frustrated we would talk about how to overcome these issues like anything else and then I would tell them, they weren't alone and that I too sometimes feel like that and if I can do it, they can too! But really, it was more just the determination that I used for our motivation. I mean, how can I look at my students and want more for them when I didn't have more myself? So, I went for it and now when I converse with them, I know where they're at, where I'm going, and how to better encourage and support them because I've been where they are, literally!
How did it feel to mark this milestone?
It feels great! Like I said, I had a plan to finish in semesters rather than in one, but now with being done, I can officially say, "I've done it"! And to do it the same year as two of my kids, that means the world to me. We're even doing these family graduation photos that they're not thrilled to do, but sometimes it's just about what Mom wants! Then, I will do it again with my youngest daughter in two years!
What's next for you?
A lot of golfing this summer! Really though, I have been accepted into the Social Work BSW program at Bemidji State University and will be attending online in the fall with a graduation date of 2023!
Anything else you would like to add?
After every session with each of my students, they fill in the blanks following these affirmations and I'd like for each person reading this to do the same.
I can…..
I want to….
I belong….
For me, I can continue to succeed in my education. I want to be the best mentor I can be to those around me. I belong in this position as a Raider Connect Coach because I love watching my students bring out the best in me, themselves, and those around them.