A collection of women from all walks of life, each with a fascinating life story, is the subject matter of Jane Martin's deeply compelling play 'Talking With,' next up in Brainerd Community Theatre's season of streamed performances. The play will be available for home viewing March 25-28.
"Talking With" received standing ovations at Louisville's Actors Theatre when it premiered there in 1982. The play garnered the American Theatre Critics Association Award for Best Regional Play in that same year, and also won the Best Foreign Play of the Year award in Germany, from a leading German theatre publication.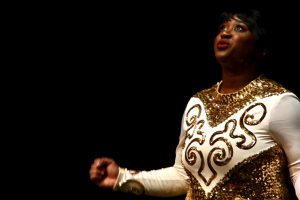 The production is directed by Patrick Spradlin, BCT director, and Beth Selinger, well-known as a director with several area theatres. It features the talents of local actors, each embodying the character she has been chosen to portray.
"I saw a professional production of this play in 1985 when I lived in Chicago," said Spradlin. "It's remained with me as a potential production. In this time of pandemic, I thought it would be especially appropriate for the streaming platform of production."
The play is also slotted to run during Women's History Month. "It seems particularly relevant during this month to have a play that celebrates the strength of women from all kinds of perspectives," said Selinger. "Each of the characters in this play is a woman of distinction, even if they're not famous."
'Talking With' introduces the audience to: an actress talking about what it is like to bare her soul every night to an audience of complete strangers; a housewife whose disaffection with marriage and life has caused her to retreat into the fictional world of Oz; a woman who chronicles how her mother counted down the final days of her life using clear glass marbles and a fierce determination to face death on her own terms; a former rodeo star who wasn't marketable enough to fit in with the 'new' rodeo world of commercialism and hype; a champion competitive baton twirler who gives a perspective on her work that is akin to a religious experience; a woman facing the dying of the light in her own life by embracing the light and shadow created by a collection of lamps; a young member of a snake handling sect, facing the doubt she has about her faith by staring into the eyes of a venomous viper; a mother in the final throes of giving birth to a child that may not be normal, but will conquer the world with its power and ferocity; and a woman who tells how a small cut from the knife of a would-be lover transformed her life, and her very skin, into a work of art.
"We've been blessed with the talents of some exceptional local actors," said Selinger. "We held auditions over Zoom, rehearsed the first couple of weeks in the same way, then brought each actor in individually to set camera angles, lighting, and sound. Then, we recorded each monologue and edited them together into a complete performance."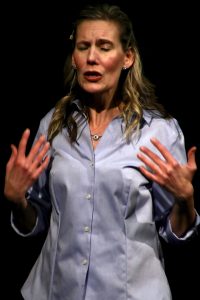 "Our fall production of 'Scotland Road' taught us a lot about using this technology to capture theatrical performance," said Spradlin. "While live theatre with an audience in physical attendance is the preference of nearly all, we think this script and this technique serves the play well and makes for an interesting theatre experience."
The cast of 'Talking With' includes Wendy Vandeputte, Amy Borash, Jenny Kiffmeyer, Nicole Rothleutner, Rachael Kline, Laura Busch, Brianna Engels, Lindsey Derry, and Stephanie White. Each actor is familiar to local audiences for their work in plays and musicals at BCT, Pequot Lakes, Stage North, and Great River Arts (Little Falls) community theatres.
George Marsolek, BCT's technical director, designed lighting and set. Sharon Hartley is costumer for the play. Curtis Jendro supervised all video and sound recording and editing. Lorri Jager is production stage manager. Additional video support is supplied by Brent Balmer of CLC's Videography department.
The production will be made available for same-day viewing. Updated and current ticket information is available by visiting www.clcperformingarts.com
This activity is made possible, in part, by the voters of Minnesota, through a grant from the Five Wings Arts Council, thanks to a legislative appropriation from the Arts and Cultural Heritage Fund.